Below is ad showing 2003 model line.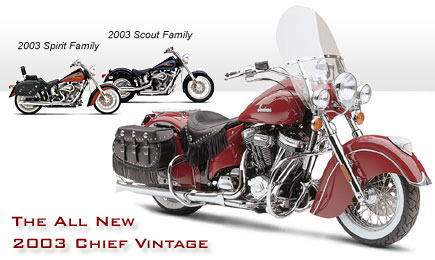 A decade later and here is the last of the Kings Mountain series Chiefs, 2013. (Note how it looks the same as the 2003 model, except for the paint scheme.) This is a very limited edition "Chief Vintage Final Edition", painted to recall the 1939 Chiefs and Scouts which were introduced at the Worlds Fair; also available black and white as smaller image below. As an investment , it might prove to have some appreciation in the future, but this is very hard to predict. ( Polaris Industries now owns Indian, and production has been moved to Medina, next to Minneapolis, Minnesota, USA.)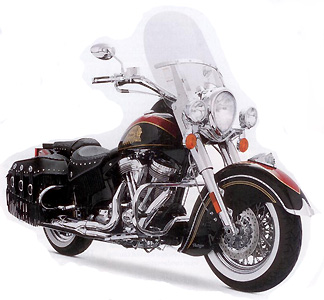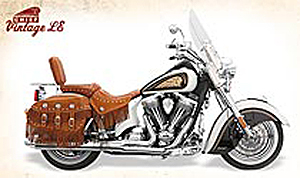 It should be added though that the "Gilroy" 1999-2003 Indians (actually about forty-five 2004 models were also made) were not as reliable as Harley or any other large V-twin. Riders frequently email me complaining of mechanical, electrical and brake problems, (not that I can help, please desist) and every magazine road test I read found its Chief with a flaw (e.g. leaking rear shock, leaking rear cylinder, chirping noise, gear shifting problems) and most found the brakes were reminiscent of a 1966 - 1971 era Harley (wooden and weak). Ironically, given the huge size and mass of sheet metal, handling (other than braking) was always found to be good for a heavy cruiser, better than many competitors.
Here are some photos I took in June 2014 of an all black 2009-13 Chief at the Orangeville (Ontario) Blues Festival. Note the multi-spoke custom wheels. Also a shot of a pretty two tone blue Chief at the CVMG annual rally in Paris (Canada) also in June 2014,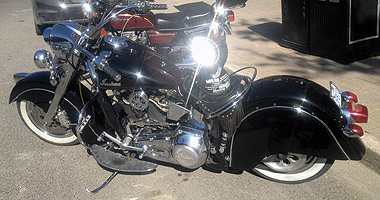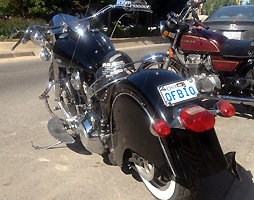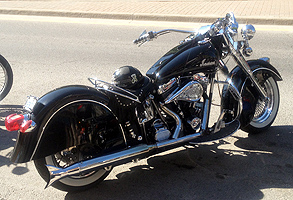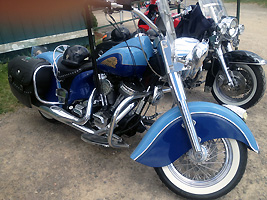 My own concerns about the 1999 - 2003 Gilroy Chiefs, most of which apply to the very similar ones made at Kings Mountain up through 2013, (before Polaris re-designed and greatly improved engineering and style) were:
1) excessive fork rake (more like a chopper and the gap between fender and down-tubes looked far too much for a cruiser), however it looked fine on the Scout models;
2) rear fender way too fat (and covering the rear brake creating potential for overheating and fading under hard, repeated use);
3) the seat is all form and no function - thin, hard and stuck to the frame like a home-made 1968 chopper;
4) there is an ugly cut away of the left front fender to clear the brake caliper, again looking home-made and last-minute;
5) the front fender looks too narrow compared to the back (and vice versa). The new front fender could've been made fat to match the rear by having the sides cover the lower fork legs and brake, with hole in the top for the fork tubes, which would also have solved the problem of cutting out the fender to clear the brake;
6) rear drive is on left side and should be on right side to match original Indians (not to mention Sportster, V-Rod, Ducati, 1990's up Triumphs, and Victorys; happily 2014 models on have right side drive);
7) just like most Hawgs, the carb and air filter stick out so much it forces you to curve your leg around it. No issue for rides of an hour or so but longer distances creates potential for a cramped leg, like my 1980 Harley FLT tortured me on a day long ride. A major ergonomic flaw.
(Some of these issues e.g. the ugly cutout for the front disk brake caliper, have been ameliorated since around 2010.)
Back in 2003 I test rode a Kawaski Drifter - a 1500 cc version - and found it felt light despite all the bulk (fenders aren't metal so that reduces weight), handled OK for a cruiser (terrible turning radius though, almost dangerously wide - no U-turns on single lane roads are possible), was very smooth, comfortable and surprisingly fast - found myself doing 165 kph (over 100 mph) with ease and still some twist left in the throttle. The Drifter was as reliable as a rock, so there was no feeling that this speed would cause a breakdown. Of course it had fuel injection. (3 small photos below show red Drifter 800 and two blue Drifter 1500s)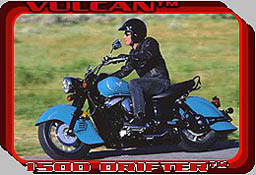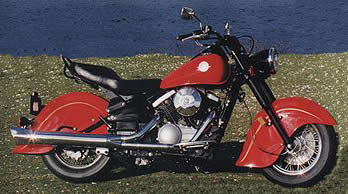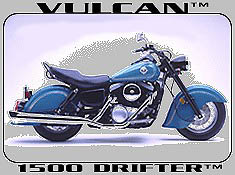 In 2005 I test rode a Kawaski 800 c.c. Drifter (the 1500's baby brother) and also found it a good machine. It was really an enjoyable ride except that on the highway the mill felt more like a 500 c.c. twin, i.e. buzzy and with very little reserve power, thus not suitable for touring or commuting on the expressway for more than half an hour. Also with the pseudo rigid rear frame and the rear fender swinging with the wheel you cannot mount saddlebags in the normal manner. However for anything less it was one of the best bikes I have ever ridden. I finally found out why the engine seemed so small on the highway. (Normally an 800 c.c. twin would be peppy.) The bike weighed 600 pounds when full of oil and fuel! This is very heavy for an 800 cc chain drive motorcycle. The weight must be the liquid cooling and internal engine balancers. Handling was amazing for such a heavy bike with fat tires. Felt as light as a 420 pound British twin. This Kaw was arguably a successor to the original Indian Scout. In comparison Kawasaki's 1600 Nomad felt like a whale, just too big and vague handling, with a very irritating huge gap beween 1st and 2nd gear, and a not very comfortable seating position. The Kaw 1500 Drifter ceased production with the 2004 model and the smaller 800 Drifter ended in 2005 or 2006 depending on what country. If the new Polaris series proves successful, one wonders if Kawasaki will revive their Drifters. (They revived their W650 British parallel twin imitation as an 800 when the current Triumph 865 twin became popular.) They say imitation is the best form of flattery.
Now getting back to the 1999- 2013 range of Indian V-twin motorcycles, as can be seen from the ad showing the 2003 range, in addition to the Chief there was the Spirit and Scout (that was the last year for them). (A road test of the Scout is available at the sister site to this one; click on "to the Scout site" on the handlebar at top of screen.)
The Indian SPIRIT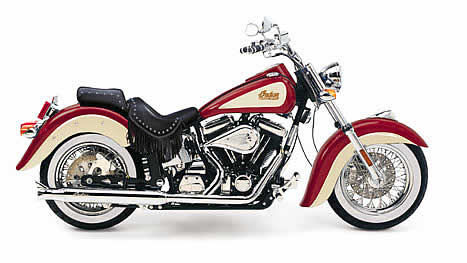 Indian had many models and names for them over the years, but the Spirit was brand new as of 1999. As can be seen, the Spirit was basically a 1999 - 2003 Chief without the fender skirts and had a slightly less massive front end. Below is a 2003 tastefully customized and then a stock blue one with factory optional patriotic tank painting.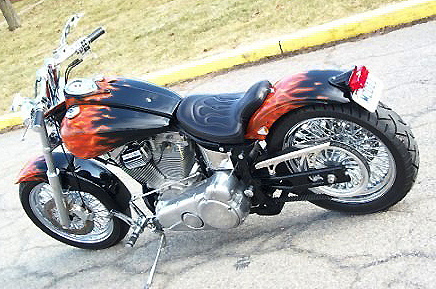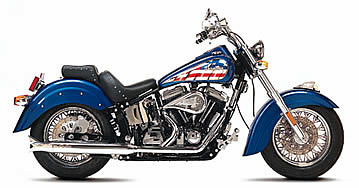 Here is yet another tastey 2003 Indian Spirit motorcycle, in cream and black color: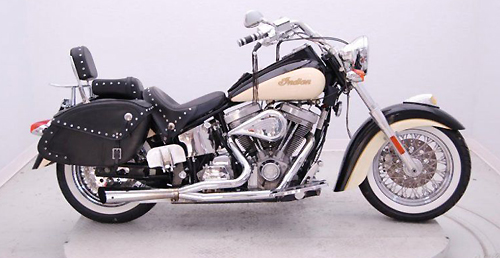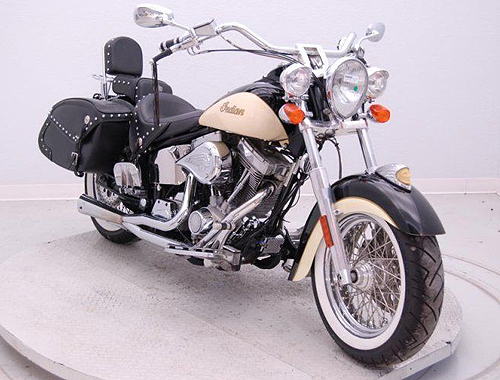 Spirit specs were:
Displacement 88 Cubic inch (1442 cc) Bore/Stroke 3.625 in. x 4.25 in. Transmission Constant Mesh, Foot Shift, 5-Speed Carburetor S&S E Type, 1 7/8 in bore / 47.6 mm Exhaust System 2 into 1 Primary Drive Chain Drive-Wet Clutch Final Drive Aramid-reinforced Belt Dimensions & Weights Seat Height 28 in. / 711 mm Ground Clearance 5.75 in. / 146 mm Wheelbase 67 in. / 1702 mm Overall Length 99.5 in. / 2527 mm Overall Width 43.5 in. / 1105 mm Rake 32deg. Trail 5.25 in. / 133.4 mm Fuel Capacity 4.75 gallon U.S. / 18 litres(1.75 quarts / 1.65 litres reserve) Oil Capacity 3.0 quarts / 2.8 liters w/filter Dry Weight 620 lbs. / 282 kgs. Wheels, Tires and Brakes Front Wheel 60 Spoke-Chrome, 3.5 in x 16 in Rear Wheel 60 Spoke Chrome, 3.5 in x 16 in Front Tire 130/90-16 67H Rear Tire 130/90-16 73H Front Brake 4-Piston Caliper, Billet Aluminum Rear Brake 4 Piston Caliper, Billet Aluminum General Instruments Analog Speedometer with odometer, Proprietary bezel with V-shaped Indicator lights layout. Seat: Indian. Frame: Indian. Front Suspension: 41mm Hydraulic Dual-dampening conventional style Rear Suspension: Nitrogen charged Hydraulic absorber with adjustable pre-load. Colors Black, Medium Silver Deluxe Colors Black/Red, Black/Silver, Black/Cream, Red/Cream
The 2002 - 2013 POWER PLUS Engine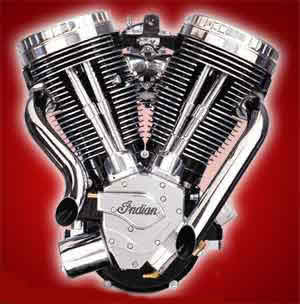 The original Indian V-2 engine was called the Big Twin. It only had seven (7) horspower. The Power Plus engine came out in 1916, to replace it. It was a 42 degree V-twin side-valver and had the same displacement as the older mill (61 cubic inches or 1 liter i.e. 1000 cc's). The Power Plus was a "power minus" weakling by today's standards, making only 17 horsepower but that was more than double the Big Twin's. The Chief was a new model bike introduced in 1922 using the Power Plus mill. The mill was enlarged to 74 CID (1200 c.c) in 1923 and the bike was renamed the Big Chief. This lasted until the next boost in engine size (via stroking) to 80 CID (1300 c.c.) in 1950. That only lasted for 4 production years (thru 1953). All those earlier Chief mills were side valve or flat head. The revived "Gilroy" Chief of 1999 had 88 CID or 1470 cc. That Power Plus was a 45 degree V-twin valve-in-head (OHV), pushrod operated, still with two valves per cylinder and still with air cooling, and instead of twin cams it had a single camshaft like the 1936 H-D Knucklehead (and later Panhead, Shovelhead and Evolution engines). This required very long pushrods at awkward angles to the rockers, unlike the earlier flathead engines of Indian and Harley (and Sportster) that had the cams push straight up. Basically the 1999 on Powerplus is a 1936 Harley Knucklehead design, (although the rocker covers give it a Panhead style) but much larger. It was enlarged in 2002 to 100 CID or 1640 cc. for the Chiefs and left at 88 inches for the Scouts and Spirits. Effective 2009 through 2013 it had 105 CID (1,720 c.c.), making it one of the largest V-twin engines ever made, and with fuel injection. The Gilroy (1999-2003) series had a Mikuni carburetor on the left side. Because of the chromed rocker covers (top of engine) ressembling old style twist off caps of soda pop bottles, this engine has become know as the "bottle cap" usually spelled as one word "Bottlecap".
Like all old American V-twins the 88, 100 and 105 inch Powerplus engines had a stroke longer than the bore which means lots of torque at low rpms for relaxed riding, and avoiding high rpms because they aren't available (and if they were the piston speed would be so high that destruction would occur). Even the all new Polaris built Chief will put out maximum power around only 5500 rpm. One reason Japanese sports bikes last is their stroke is so short they don't get up much piston speed, but of course this means you must use the high rpms to get any power, making for a relatively frantic riding experience more suitable to racing than legal speeds.
Following are a few shots of a mildly customized 2002 Chief kindly sent in by owner Col. Aaron Kenneston of Uncle Sam's army.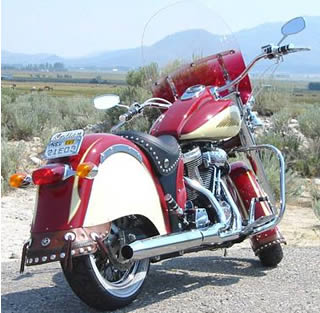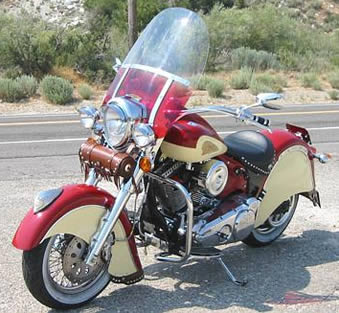 Here is a URL link to enjoy many more photos of Aaron's 2002 Chief. You can also see larger, sharper versions of the above photos there: link
---
In April 2011 the Polaris company, makers of fine snowmobiles and the Victory line of large, heavyweight, technologically advanced V-twin motorcycles bought out Indian. The 2012 and 2013 models looked just like the 1999-2011 ones. However, an all new 2014 model came out late in 2013. It looks more like the 1950-53 Chiefs in terms of engine and sheet metal but has a modern aluminium frame to reduce weight but even so weight is up to over 800 pounds. But engine displacement is about 500 cc greater than 1953, i.e. 1819 cc or 111 cubic inches. (see photo below).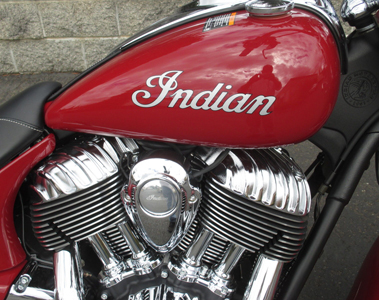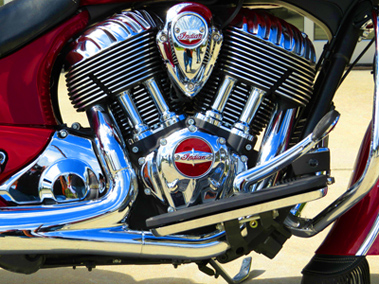 For 2014 there was no Spirit or Scout, just variations on the Chief, which makes sense as I found it "wrong" that the Scout and Spirit of the early 21st century (Gilroy) had the same big engine and frame as the Chiefs. For 2015 a new Scout was born with a completely different engine and displacment.- see SCOUT page of this site for photo. Below are two images of a 2015 Chief. Online and print medium tests including by Jay Leno are quite favorable, the sole exception being one tester reported a handling issue on freeway ramps.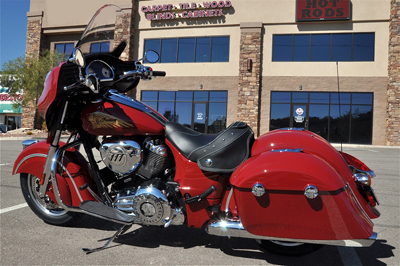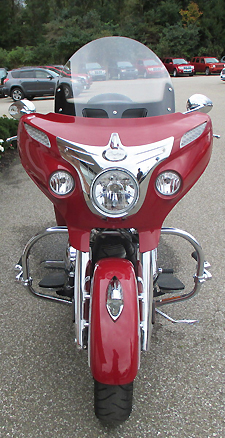 ---
INDIAN 4 CYLINDER circa 2000- 2010

A CLASSIC REBORN?
The Indian Dakota is or at least was a "Four" (4 cylinders in-line or "straight 4") with shaft drive, 5 speeds, disk brakes and electric starting. This machine was designed in Sweden as the Viking (see first photo below) and later refined and put on sale in Britain as the Dakota by a former punk rock star and biker Alan Forbes .This modern reincarnation of the fabled Indian Four has or at least had a Volvo car based engine (converted to air cooling and with performance enhancements) and the shaft drive is BMW. Volvo is Swedish and original Indian designer Oscar Hedstrom was from Sweden too, so the loop closes. Production of the Dakota began circa Y2K (around the year 2000). By "production" is meant built-to-order rather than mass-produced.
Image below is from Cycle World March 2000 issue.

The Dakota 4 received a very favorable road test review in Classic Bike magazine some years ago. It was available for sale in the USA for a few years; unknown if still available. The latest URL for the US website I had was www.dakota4.net was dated 2003 and showed a Fort Worth Texas contact, but that website is now defunct. While not designed nor made in the USA, legally the machine is a genuine Indian since it is a product of Indian Motorcycle Ltd., based in the UK (specifically Edinburgh, Scotland, Britain). That is a totally different entity than the Indian Motorcycle brand now owned in the rest of the world by the Polaris corporation of the USA. Maybe (hopefully) Polaris will become interested in the Dakota Four, in the same way the original Indian company bought the Ace Four in the 1930's and turned it into the famous Indian Four.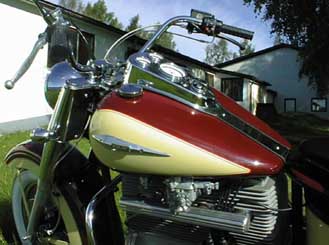 Here we see US Army Col. Kenneston touring London on an Indian Dakota 4 over a dozen years ago: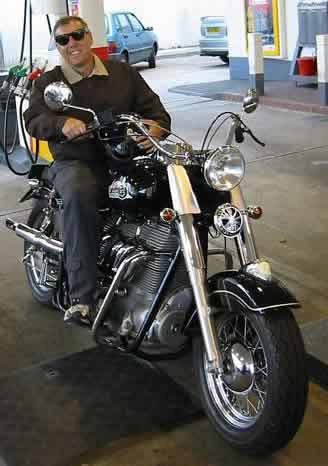 2011 / 2012 models below: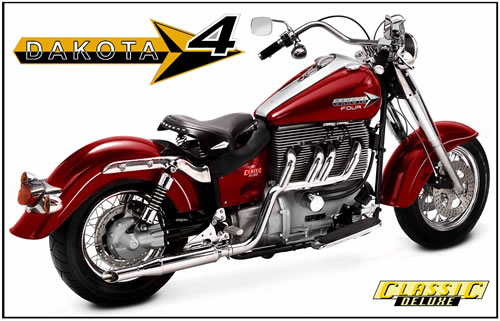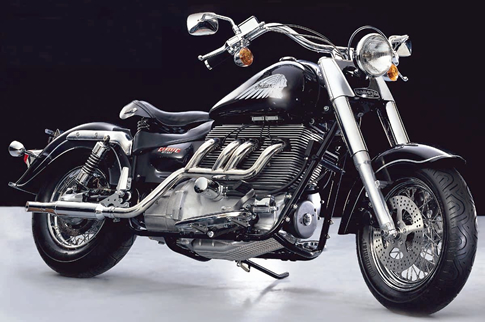 THANKS TO EVERYONE WHO HAS SENT PHOTOS OF THEIR INDIANS, STORIES, INFORMATION and CORRECTIONS. New material is always welcome and appreciated. If anyone recognizes their bike in this site please let me know so I can put your name in as owner. email author and web designer
This site is not the official site of the makers of the current lines of Indian motorcycles, (V twin Chiefs and Scouts) POLARIS INDUSTRIES.