Next we see a 1953 Chief which has been decked or dressed with extra chrome and horns and rails. Sure looks good. This was taken by me at the CVMG annual rally in Barrie in 1976, if not Welland in 1973.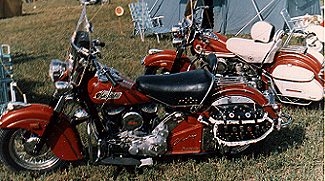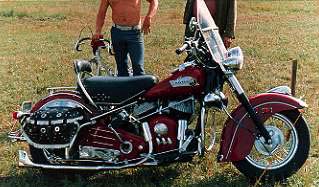 A reader/viewer of this website sent me this photo he took of a V-8 Indian available only in Germany around the early part of this 21st century. Note the large radiator for this liquid cooled engine.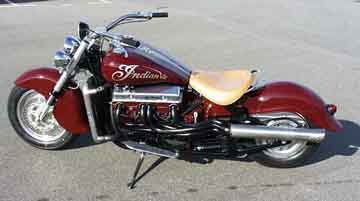 On E-Bay a few years ago was this 6 cylinder Chevrolet powered and automatic transmission "Indian" although the frame is custom and wheels and seat and forks Harley-Davidson, the only Indian parts I can see are the front fender and fender lamp. Next shot shows owner pulling his boat on trailer. This bike has the power and stabiility to do it. (Sorry about the line thru the shot.)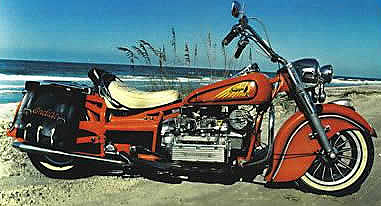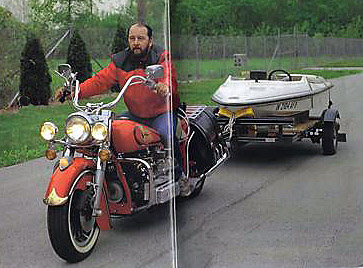 Next is a recent Kawasaki 800 Drifter which when I first saw it from the front fooled me and many others into thinking it was a 1950's Indian with turn signals. (This was before 1999 so there were no new Indians then. Nowadays, why bother trying to make your Kaw 800 or 1500 look like a Chief when there is a real Chief available?) Nowadays the owner is liable for trademark infringement if he still has the Indian logo on the Kaw. The light blue model is a stock Drifter 800. (The 800's look more Chiefy than the 1500's with their swinging arm rear suspension. Unfortunately Kawasaki discontinued both the 800 and 1500 Drifter a few years ago, so they may eventually become classics themselves)
By comparison, a 1470 cc. (88 CID) Kaw Drifter below. (Perhaps named because they drift rather than steer thru corners? The originally proposed name "Vintage" was much better in my opinion.) The headlight is a copy of a 1950's BSA or Matchless- why they didn't stick with the Nomad headlamp and nacelle which is a copy of 1950's Harley or Indian makes no sense at all. Also the imitation Shovelhead (TM) engine looks like a 1980 H-D stuck into a 1950 Chief. They should've kept the earlier Vulcan engine which was imitation Panhead (TM reg'd). The concept of the rear fender matching the front is great in theory but looks overdone to some. What is neat is that the rear fender is the same distance from the tire as the front, and like the front the fender as well as wheel moves up and down. This concept was copied from the Vincents of the late forties and early fifties.)
Now for something equally interesting, a Swedish Albin (1 liter or 61 CID V- twin with huge transfer case for the shaft drive) in bobber form. It seems to have Harley split fuel tanks and a 1960's Sportster front end. Custom solo seat and custom exhaust pipes and a bobbed rear fender and chopper style oil tank and rear wheel. Actually other than the engine and gearbox and possibly the frame there is nothing else Albin on this. This would make a really unique bike to show up with at any meeting of vintage bikes or Harleys. I am curious as to what a stock 1940's Albin looked like. Apparently only two Albins were ever built (military protoypes?) and this is what is left of one. Talk about rare! (Click on the thumbnails to enlarge, full sized image will appear in a new browser window overtop of this one, when finished looking, click off the new browser window to return here).






Indian never made a snow vehicle but several privateers made their own using Indian Scout engines and other parts, and a company named Eliason made "motor toboggans" using Indian engines. Below is a photo taken in 1916, sorry do not know where. The owner uses a steering wheel instead of handlebars so in this sense is way ahead of even today's snowmobiles. However he took the fast and easy way out by using an almost complete Indian motorcycle (less wheels and handlebars) to make most of the machine. The cycle's forks seem to be bolted to the wood plank by a strap. but since steering is instead via ropes attached to the skis, not a problem. Unlike most other homemade snow machines, he has a headlight, which will turn with the skis. Easy to check and refill gasoline too, with the stock tank in its normal location. Looks like the "body" is simply canvas.
Next are three photos of Eliasons. The first is a 1943 US Army model C. The second is a civilian 1945 model D (photos by Wayne Campbell) and the third looks like an advertisement from the 1950's. Perhaps Eliason folded when the supply of Scout mills dried up after WWII, although they could have switched to Harley "45" engines which, although not as powerful, were very plentiful for about 15 years after 1945. However the helmets and snowmobile suits in the last Eliason ad further below definitely look like 1970's, which then raises the question "How did they keep accessing Scout engines for over 30 years after they stopped being made?" If anyone out there owns an Eliason please don't contact me asking what it's worth as I do not have a clue. They are so rare there is no market for them. It is whatever you can get, be it $50 or $5,000.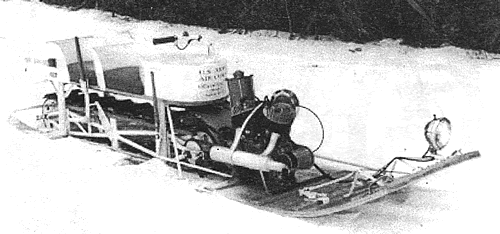 Next are two photos of an Eliason running around a lake in Northern Ontario in early 1991. The vehicle was purchased by Gary Bluestone's father in 1974, and was made around 1940 either in Sayner Wisconson or by the (FWD) Four Wheel Drive Co. also in Wisconson, who did subcontracting for military contracts. It was used by the Wisconson Fish and Game dept. at some time. The image was used in Indian advertising later in the 1940's. The first Eliasons used Excelsior motors. Gary Bluestone spoke with Eliason' s son who told him that after 1929 when these motors were no longer made, they simply bought up used bikes to get motors. Then apparently they bought new Scout engines from Indian. After the Scouts were no longer made, they switched designs to use a rear mounted Briggs and Straten or similar motor. It appears that the fuel tank is the metal box in between the riders' knees and the silo shaped cylinder sticking up like a smoke stack is the oil tank. because it would have to be above the oil pump for gravity feed. The exhaust seems to aim forward but I think it is actually just angled out and exits to the right so the rider does not inhale as much. Steering is via metal blades, like skates, underneath and just to the front of the motor, connected to a tiller. The long lever on the right pushes the drivetrain down like engaging a gear in a car. The shorter lever on the right is the gearshift. Instead of the stock three speeds, Gary uses a sidecar type transmission with reverse to help when the rig gets stuck. So although he only has two forward speeds (plenty for a frozen lake with almost no other traffic) he does not need to get a hernia or back strain pulling the rig back when it gets stuck. Photos and info by Gary Bluestone.
If you like customized cruiser motorcycles be they based on Harley "45" or Panhead engines or Indian flatheads, metric V twins, old Vincent engines, Ducati or even English engines, check out my new website:
Custom Cruiser Concepts which contains lots of my styling exercises done over the last 40 years, plus pencil sketches of basically stock Harleys and a BSA and a Gold Wing and other bikes, and for $40 I can do one of your bike.
The Crocker
No history of American motorcycles in the first half of the 20th century is complete without mention of the Crocker. Crocker made very successful single cylinder Speedway race bikes, and V-twin street bikes. Like the English Vincent this big V-twin was very fast and technologically advanced for its day (1936), and the bikes were hand built, so they were expensive and rare even in their day. (The war put an end to American and English civilian motorcycle production in 1942, and while Indian, Harley and Vincent resumed after WW II, Crocker did not.) The Vincent V-twin came into production about the same year as the Crocker and Harley Knucklehead (1936). The Crocker only lasted until 1942 and the Vincent until 1955. The Harley evolved into the Panhead in 1948, the Shovelhead in 1966, the Evolution in 1984, and more recently the Twin Cam. Probably no two Crockers were alike even when brand new. Buyers could order engine sizes from 61 (1 liter) to 100 CID (1.5 liters or 1500 c.c.). While the Vincent was fast but fragile and high maintenance in some respects, e.g. gearbox, clutch, brakes, electrics, the Crocker was fast, simpler and rugged. Parts were made overly strong for the power output, understressing them and making them reliable. While the Crocker was like a big Detroit V-8 car of the fifties, the Vincent was more like a finicky British sports car. (Not that people then and now have not racked up tens of thousands of touring miles on Vincent Rapides - I am thinking more of the Black Shadows and Lightnings. The Vincent was much more complex than the Crocker or for that matter any V twin made in the following half century. The Vincent rear suspension was not copied until the Harley Softail and the oil-in-frame design was not copied in a street bike until Triumph and BSA used it in their 650 twins starting in 1971.) While the Vincent was unique in appearance, the Crocker looked familiar: like a stripped down Indian Chief with Harley Knucklehead engine. Actually Albert Crocker used to work for Indian so resemblances between Crocker and Indian parts (tanks, Scout-like forks, aluminum primary cover and generator drive location) are not just coincidence. While some parts were obtained by Al Crocker from Indian and Harley dealers, it is not true that the bike was a combination of Indian and Hog parts. The frame (which included a cast-in steel gearbox), forks, engine etc. were pure Crocker. Many parts which on other bikes were pressed steel or cast steel were made of aluminum; even the fuel tanks. The gears were oversized for strength, but only three speeds were available. (That was standard in 1936.) The engine was of valve-in-head design (OHV) and had an almost square bore and stroke ratio. That ratio was truly ahead of its time as until about 20 years ago V twins on both sides of the Atlantic except for the Vincent and Crocker and Moto-Guzzi had narrow bores and long strokes. The Crocker came out in the same year as Harley's OHV Knucklehead, but beating Harley to the market by about 5 months. Early Crocker V-twins were hemi-head with exposed valve springs, but some of the heads cracked. The later design was called "parallel" and had fully enclosed top end, but less power. I am not sure of whether the valve angle was more vertical like the latest designs or not. Apparently Harley and perhaps also Indian felt so threatened by the more advanced and fast Crocker that they pressured Budd and Kelsey-Hayes, the wheel rim makers, not to deal with Crocker, so Crockers were sold without wheels and buyers had to buy them under the table from sympathetic Indian and Harley dealers. According to one story, during the early 1940's Mr. Al Crocker, seeing the writing on the wall, approached Indian about buying the rights to his engine for use in Chiefs. As is typical of the Indian management of the 1940's, and Indian's own failing finances, they turned their noses up at a golden opportunity and looked a gift horse in the mouth, just as they did in 1949 when they had the chance to power new Chiefs with Vincent engines. Thus the postwar Indian V twin never became an OHV. Al Crocker made 64 V-twins plus successful Speedway singles and had another 85 V-twins almost finished in 1942 when the War Dept. forced him to melt them down for badly needed metal. What a shame! He then made so much money making military parts he did not resume Crocker production after the war. He died in 1961. A restored Crocker today is worth far more than an Indian or Harley V-twin of the same era, due to rarity and more advanced design. I mean like ten times more. At auctions since late 2006, well preserved or restored Crocker V-twins have been sold for up to $350,000!
Below are three B&W photos: firstly, a photo from the early 1960's showing an unrestored 1942 Crocker in Los Angeles, owned by Hiroshi Watanuki; and secondly a restored Crocker from L.A. (photo taken around Y2K) owned by Richard Morris, and thirdly from an unknown source, another Crocker, a 1939.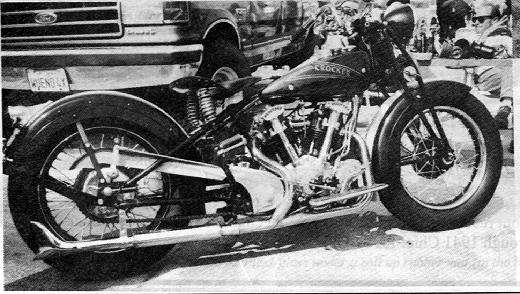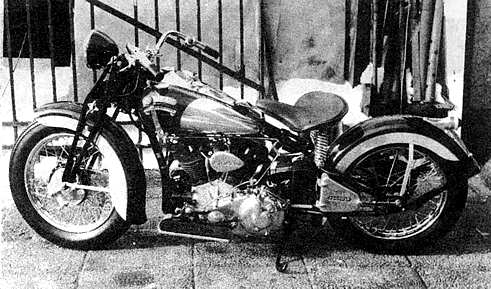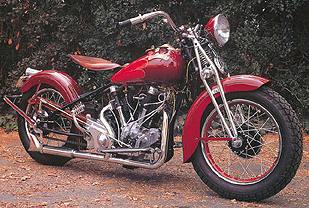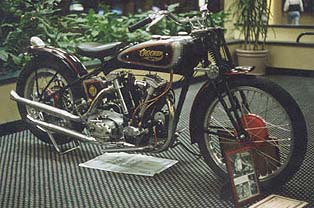 Above two color photos were kindly submitted a few years ago by web viewer "Bob" (don't know his surname). Bike on left is a 1940 Crocker "big tank" which was restored by Chuck Vernon, photo taken by Buzz Lovell, while one on right is a "small tank" model. One on right has non-stock exhaust and has a BSA gearbox, non stock front wheel and tire, and is missing the headlight. Below is a 1938 Big Tank which was on offer recently at MECUM acutions in Las Vegas.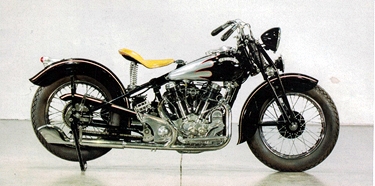 The New CROCKER
Michael Schact finally achieved his ambition after years of hard work, perseverance over many obstacles, financial, inter-personal and legal. The result sure is glorious, if expensive. I believe it is only available as a kit that you assemble, due to high labor costs in the US, but I suppose if you are truly rich he can provide an assembled one.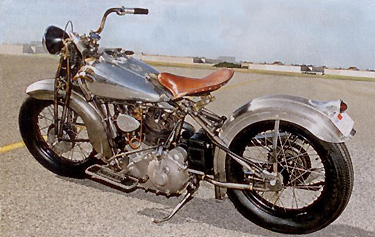 THANKS TO EVERYONE WHO HAS SENT PHOTOS OF THEIR INDIANS, STORIES, INFORMATION and CORRECTIONS. New material is always welcome and appreciated. If anyone recognizes their bike in this site please let me know so I can put your name in as owner. email author and web designer
This site is not the official site of the makers of the current lines of Indian motorcycles, POLARIS INDUSTRIES (V twins in the USA) - They are at www.indianmotorcycle.com, Nor is it the official site of the new Crocker motorycle company.