Here is a 1948 Chief tastefully and mildly cosmetically customized by Jesse James and seen on Ebay early 2012. Here are a series of thumbnail images. Click on them to open the large images.







The next photo is of a 1940 Indian Four which has been modified for touring with Harley K saddlebags and touring trunk. The other main mod was to mount 1950-53 Chief forks in place of the crude and ugly semi leaf spring front suspension. This was owned by the late Charlie Mahoney of Campbellford Ontario Canada. I took this photo at least 15 years ago when he was still alive. Charlie attended the annual Indian celebrations in Springfield Mass. annually since 1971 up until he died in 2004, aged well over 80. Some years he rode his '53 Chief and other years this Four. He hosted an annual Indian Days at his 1950 style shop, alongside the Campbell River in Ontario, which is where I took this photo.



I do not know where the next modified motorcycle is from but it appears to be a 1960 era Matchless with an old Scout engine so neatly transplanted a non-expert might assume it came that way from the factory. (Click on thumbnail to see large image) I am guessing Oz since so many ex military Scout engines and relatively fair number of Matchlesses still abound there. Maybe the owner will see this and provide a less cluttered right side photo and info on the project. (For another photo of this bike see the Scout site.) Other than a different muffler and chrome on the side of the tank, and use of a Scout instaed of Chief engine, it is almost a replica of the prototype the Indian factory built in 1960 (see below, Matchless and AJS were virtually the same thing in those days).
So on the left below is the aforementioned factory prototype 1957 AJS (probably originally with a 550 or 600 c.c. mill) with the Indian Chief mill very carefully inserted. It uses the English primary drive. Not a centimeter to spare but it fits! Bike probably has same power output as before (meaning clutch can cope) but engine will last forever. Less vibration too I'd expect. The bike must be at least 150 pounds lighter than a 1946-48 Chief, so faster. Also it has a Burman 4 speed and having owned a '50's Matchless I can say they shift very fast, partly because its 1 up and 3 down. Large AJS tank carries about 5.5 US gallons and the lighter weight = better fuel mileage and with that big seat (rare on a Brit bike, but stock during the '50's) one could cruise longer than a stock Chief. I do not know if James Clark still owns it.
Engine below or next to it is in a 1960 Matchless rolling chassis with same setup, once owned by Indian Don. Note how big the normally insignificant Chief left cylinders look in the smaller frame.(Also love that 1958-68 Matchless primary cover -they look ace when polished.) Grafting a Lucas alernator rotor onto the left side of the Indian crank shaft and case to copy the typical 1950's English setup would be not be easy, (the alternaror coils cleverly sit inside the primary case bulge on Matchless, AJS and Norton N-15's) but that's apparently what was done on the bike below right. Seems this was another one off special put together by the guys at the factory in 1960, using a new Matchless/AJS rolling chassis and left over Indian Chief 74 parts. I am informed the factory also assembled two other specials based on the English brands they were then selling under the Brockhouse label, but I do not think they used American engines. One or both of those were destroyed in a fire. The old email address I had for the owner is defunct, as is the email address of the guy who was selling it for him. Anyone know how to contact the current owner?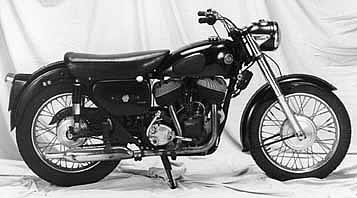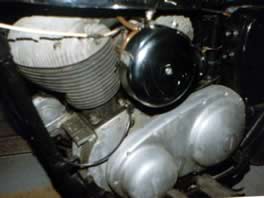 Then we have a very recent Nordian completed in 2010, with a few more mods in 2011, by Neil Grieve of Edinborough, Scotland. (Click on small images to open as larger.) This uses what Norton fans call a "wideline" as opposed to "slimline" Featherbed frame. Neil's bike features a disk front brake, but unlike the stock Norton Lockheed disk brake, this is a performance one with the master cylinder hidden under the tank. Other mods include belt primary drive, alternator on the left of the crankshaft, electronic ignition, Mikuni flat slide carb. Neil emailed me saying "I have to say I did build the engine and gearbox myself, designed the drive pin, engine plates and pulleys etc, not just worked on the chassis." For more photos on these mods as they were done before final assembly, and other shots of Neil's superb machine, buy Classic Bike Nov. 2012 issue or visit http://www.virtualindian.org/nordian.html . Neil will make you one of these if you can come up with enough money.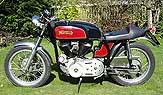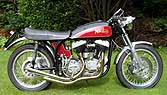 Still on high level specials, in New Mexico USA, Jim Mosher builds very fast and reliable Scouts and Chiefs; "bobbers" would be the best rubric for them but there is hardly anything stock left so they are more Moshers than Indians. Or you can just send your engine to Jim and he will rebuild it for you, at a very reasonable hourly rate, making it as fast as you want. You can also buy his special CV carburettor kit and a crankcase ventilation kit and some other goodies if you prefer to DIY. What really impresses me about Jim is that instead of just using old recipes that Indian fanatics have been passing down for ages, he does experiments, dyno testing and measurements on graphs like an engineer, to come up with the best results. His scientific approach has exploded some old ideas (which can now be called myths) and has confirmed the worth of factory engineers (e.g. it is hard to beat the factory's Bonneville cam setup). Professor Jim (my nickname for him) has found some interesting things about performance cams, the upper valve train, and ignition timing with today's low octane fuel. For more info and some nice photos visit : Professor Jim's web page For now have a look at these two shots of his Super Chief and see how many modifications it has. It has an Italian Grimeca front hub featuring a single leading shoe brake on each side. (The inside of the engine features a host of performance improvements which can't be seen.) I have put photos of his 950 cc custom Scout on the Scout website (use handlebar at top of this page to navigate there). It tastefully incorporates US and British features (Jim also makes 32 mm manifolds for Vincents.). Even more - truly impressive "blow your mind, knock your socks off" his twin engined souped up Scout that he raced recently at Bonneville salt flats is also in the Scout page of this website.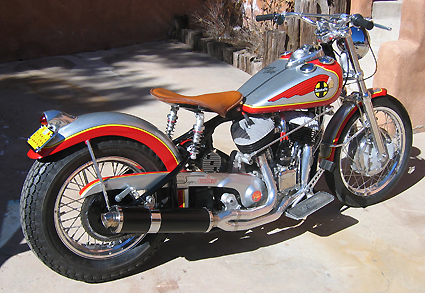 A reader from the Netherlands, Leendert Lau, sent me these shots of a custom Indian. It is a 1952 Triumph engine and transmission in what is probably a pre 1940 Scout or Chief frame. The forks are also pre-War and off a Chief or Four. The fuel tank is Indian (but with oil tank portion removed) as is the rear fender. Custom headlight, so big may be from a 1930's car. Oil tank is Triumph. The front fender is either fabricated or a genuine Chief or Four fender that has been cut in half and narrowed to suit the Triumph front wheel. Custom mufflers. The builder (unknown) stamped info and factory logos onto an aluminium plate which looked so official it fooled the present owner into thinking this was an Indian - Triumph factory prototype. (It shows 650 cc.) Check out the cute Indian head shaped tail light lens.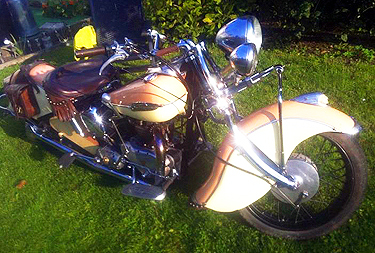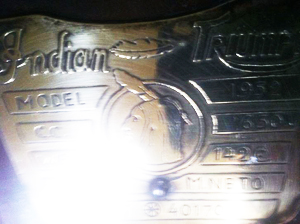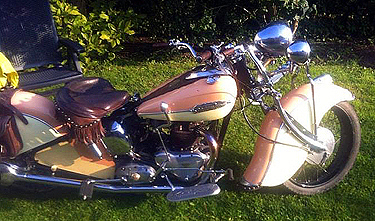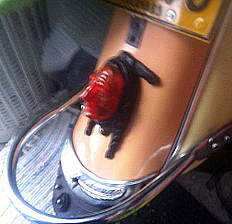 Below and right is an ex-army 1943 Indian model 841 in civilian paint, and some chrome plating, e.g. oil tank, handlebars, instrument panel and fuel caps, headlamp rim, fork springs, rear shock covers, at Rhinebeck, NY in 2007.

Below is another ex- US Army model 841 that has been customized with Chief fenders and a neat custom sheet metal headlamp nacelle and fishtail muffler tips. The other changes are just paint and chrome, but it turns the ugly duckling into a swan princess. It would have been easy for Indian to make a bike just like this. Instead they sold the remaining 841's (the army cancelled the contract when the Jeep became popular) for "peanuts" and turned their back on it.They were probably smart not to market it the way it was as it suffered from a weak gearbox and weighed 550 pounds and the flathead 750 mill even if in Sport Scout specs would not have given acceptable performance. It was expensive to make (shaft drive, different gearbox) so would have been competing with BMW. I say if they had marketed a bike like this with an improved gearbox and enlarged engine, e.g. stroked to 950 cc via Chief crank and rods, they would have given BMW a run for their money, maybe not have gone bankrupt.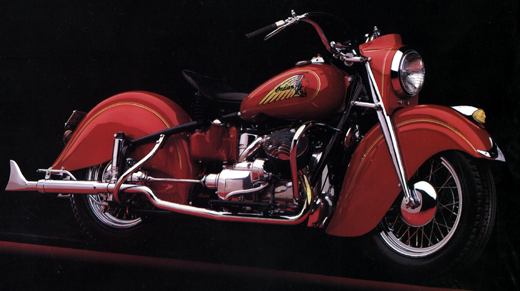 Here is a photo-montage of another civilian-ized 841, this time done by Krumm's of Texas (no longer in business) and owned by Dave Schultz.
Still on civilianized model 841's here is a stunning beauty exported from Canada to Australia and superbly restored and civilianized by Pete Ypatidis, (who has been restoring Indians for 30 years). I believe it was sold for about A$50,000. It is a real work of art and craftsmanship. The original military 841's were a bit ugly but here we see a Cinderella transformation.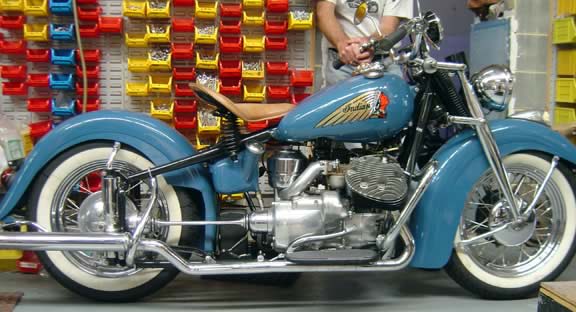 Here is a closeup of the engine. Click on the thumbnail image to open it in a new browser window.


Below we see a shot of Indian dealer Chuck Myles on his Indian hillclimber in the mid 1990's. A few words about Chuck - interesting guy. He used to be a teacher (phys. ed. and sociology), then started his Indian service, sold parts and rode competition (hillclimbs), built specials etc. Circa 1969-70 I bought and sold parts from/to him via mail and about five years later I met him at a hillclimb near Hedielburg Ontario. Years later he had some problems with the law (falsely accused of stolen property, resisting arrest). He sued public officials, acting as his own counsel, and eventually won! Later he ran as a judicial candidate and won, becoming a judge. How cool is that? I was flattered to meet him at Rhinebeck NY in June 2007. He hardly looked any older than he did when I previously met him about 30 years earlier! So I was surprised when he died in 2012. if anyone has any more photos of Chuck I would like to post them here. On the left below is a Chief hillclimber with a special rear tire to really grip the dirt (also check the high ground clearance and the loooong rear fork (swinging arm). In the middle is an alcohol-burning hillclimber with a 101 bottom end and Bonneville Sport Scout top end. (Photos courtesy Allan Lowson.) You may wonder about the small fuel tank and the fins on the heads being sawed off. A typical hillclimb lasts less than ten seconds, so you don't need much fuel or engine cooling. The ground-off fins show what a flathead "really" looks like, so now we know the label "flathead" is very apt. The hillclimber on the far right was seen by me at Rhinebeck in 2007.
Still on the hillclimber theme, seen on Ebay July 1013 was this interesting factory built hillcimber. According to the ad Indian built 31 of these from 1938 thru 1939, this one being number 8. (See closeup of VIN in first image.) It produces 30 hp from its 45 cubic inch flathead engine, which is about as much as one can get iwth a flattie (67% hp to CID)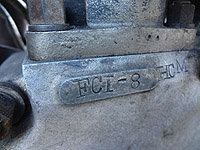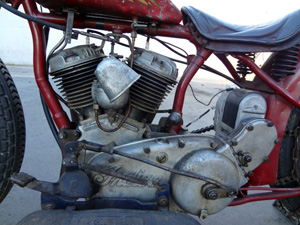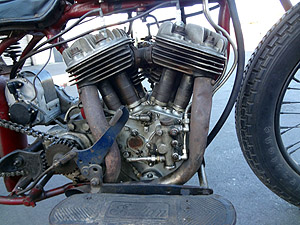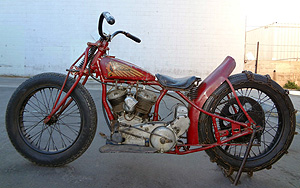 So far we have had roadracers and hillclimbers, but next is a drag racer. It is a 1944 Chief engined bike built and piloted by Sunbear Blair and he has won at least one race. Looks like he still has the hand shifter and foot clutch, albeit the clutch treadle is way at the back. Note huge carburetor and tiny fuel tank. I cannot tell where the oil supply is. Thanks to Carol Blair for sending these.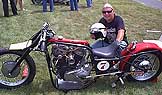 Still on the bobber and chopper theme, below is a cream and reddish orange Scout, with perhaps a Warrior fron end and an unuusal exhaust pipe and muffler. Then another red Scout bobber with a magneto over the oil pump, a BSA or Triumph front brake and a cover over the rear cylinder presumably trying to scoop more air in and black exhaust. Then two shots of a radical Indian chopper with a 21" front wheel and prewar leaf spring front end. Looks like an oil filter way back at the right rear axle area. Is that a 1958 Cadillac rear light? All shot by me at Oley 2012.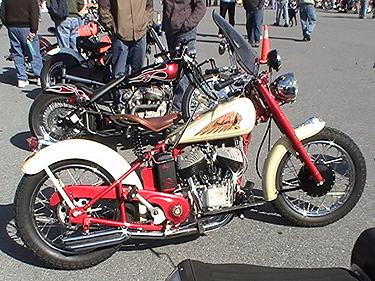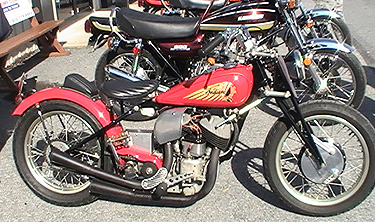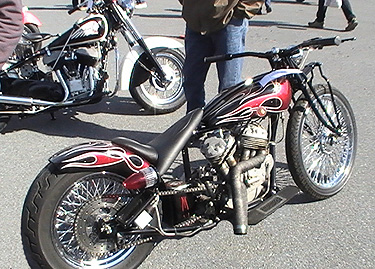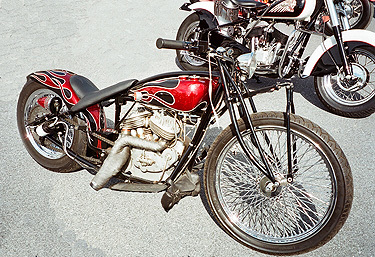 Next is a 1942 Indian Four bobber. I took several shots of it because it has some unusual features:
Firstly, you never see an Indian Four bobber, they are worth so much stock restored that most people would not dare chop or bob one, also it has dual carburetors, 4 into 2 exhaust with British style aftermarket mufflers circa 1955-70, (note the heat shield near the brake pedal), modern forks, perhaps H-D but cut down, and 1969 or '70 BSA or Triumph front brake for excellent stopping power. It likely has a few other little tricks related to the electronics. Very interesting! (Note the Vincent in the background of some of the shots.) The last shot of the group is the same bike at Rhinebeck in 2013.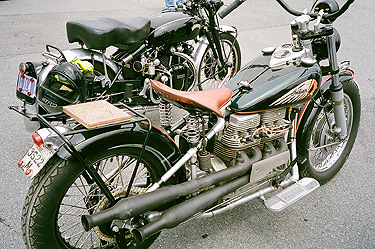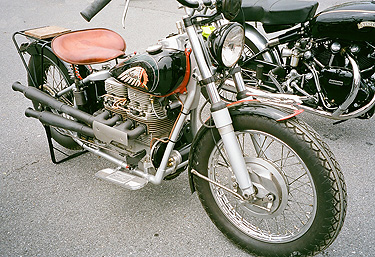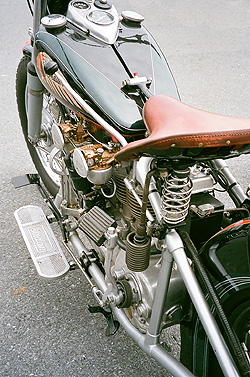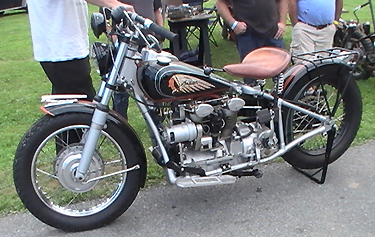 Here is a rough photo of a Vindian, a Vincent engine in a Chief frame (here, with a 1950-53 fork). I, and the president of the Laughing Indian Riders Club, would love to know where this bike is today. All we have is this bad old photo. Also seen at Oley in 2012 was this 1940 Four which is stock except for the four exhaust pipes and fender image. Also a better shot of the 1950-53 Chief with cut down fenders that is seen in the background of some of the previous shots.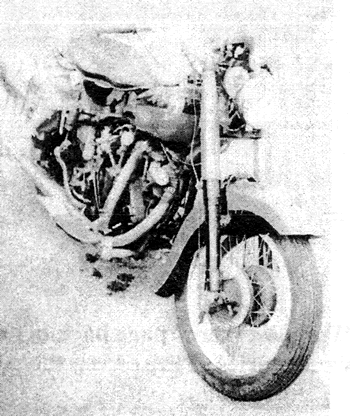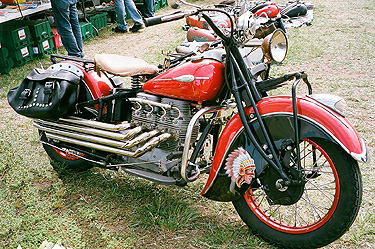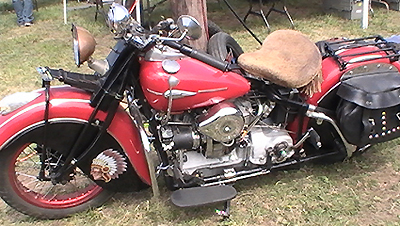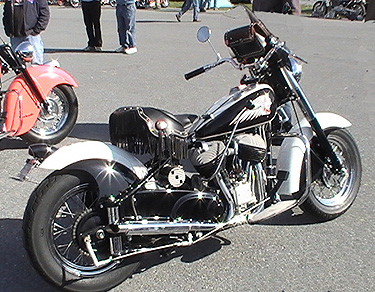 Also seen at Oley in 2013 were several cool old Harley flathead bobbers and chopppers (model U, UL or ULH).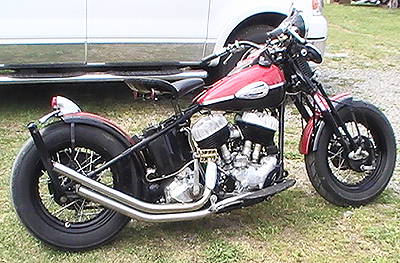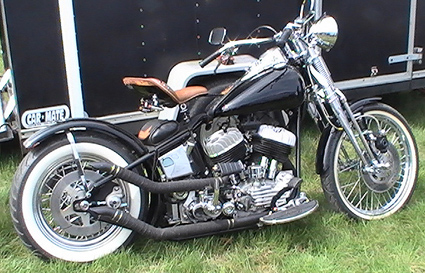 For comparison here is a 1940's unrestored looking U with period windshield and 18 inch wheels and saddlebags.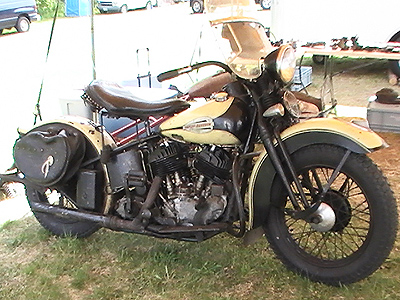 Although this site is supposed to be for only flathead (side valve) American V twins, I could not resist this funky red rusty Harley Knucklehead, aslo with 18 inch diameter wheels which were the norm until the 16 inchers were introduced to provide a softer ride back in the era of rigid frames and harsh forks, sacrificing handling in the process.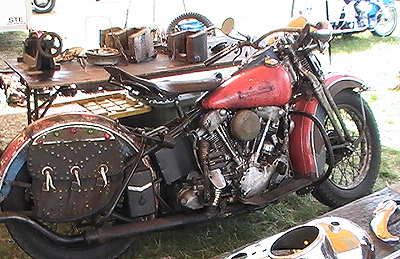 Next is a 1942 Chief bobber.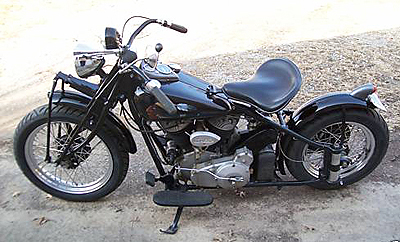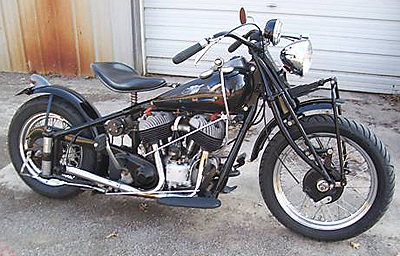 Then a nice clean bobber 1947 Chief owned by Rob Buczynski of Reno, Nevada, USA. Strange, I thought it was all hot and desert there but the photos show snow, anyway - Mods include Borrani rims, E-ignition, King clutch, Dellorto carb, etc. Click on these thumbnail images for larger view or visit: Rob's site
From Ebay Fall 2012 is a typical 1970-75 style full or radical chopper, this one is a 1947 chopped in 1974.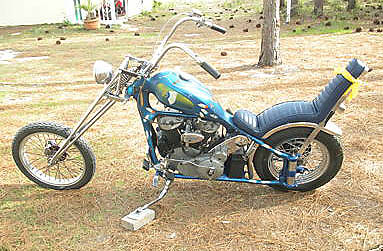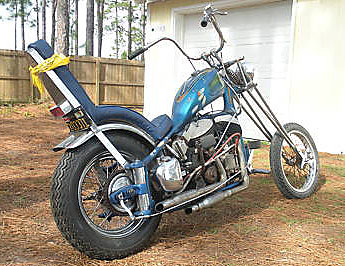 Michael Breeding, respected supplier of high quality repro parts for Indians, is seen in the next photo with his 1953 Chief chopper. (Photo taken in 1969.) Somewhere there is a half (U.S.) gallon oil tank but where? The fuel tank looks to be Norton N15/ Matchless G-15CS, and looks very nice on the bike. Funnily enough I had the same type tank on my Honda around the same time but never thought of putting such a tank on my Indian. Instead I waited about 8 months for the chopper teardrop tank to arrive (there was such a demand everyone was sold out) and then had it chromed.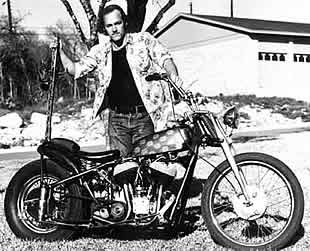 From the quality magazine American Bagger (Oct. 2009 issue) is a shot of the Editor's (Buzz Lovell) old Chief Chopper. As he wrote in that issue, he wishes he never sold it. It had a 1937 frame with a 1947 engine, 1948 oil pump, internal parts anti-friction coated, front end off a 1980's Kawasaki 1000 :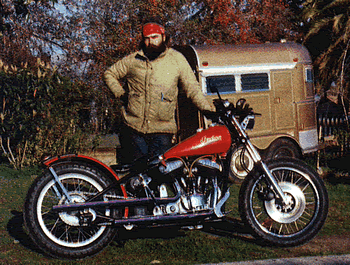 Jim Parker who runs an Indian business in Australia made this bike from a 1944 Chief engine, a swing arm frame and modern forks, Norton primary drive and AMC 4 speed footshift gearbox.
| | |
| --- | --- |
| | |
Back in the USA, here is a 1947 Chief chopper with Harley forks, from 2014: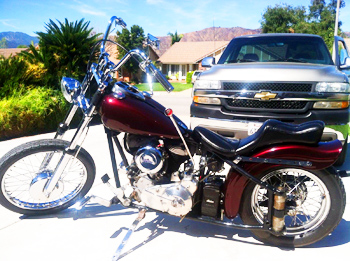 Here is a 1948 bobber in very dark blue in a field of autumn leaves from Ebay Dec. 2014. The blue looked black in the photos so I used Photoshop to bring it back to blue: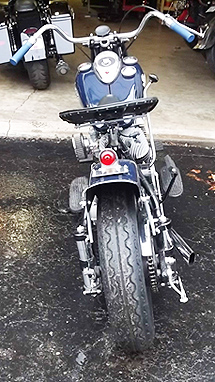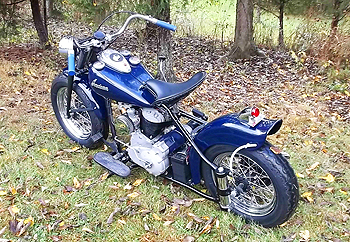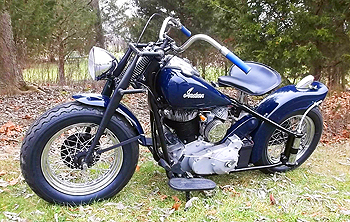 Here from late 2015 is a 1946 engine in a 1946 frame bobber with Crocker paint job on tank: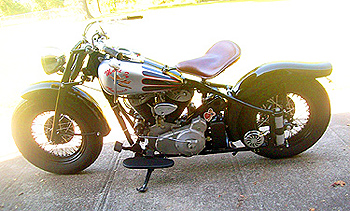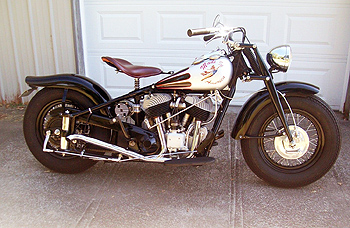 Here is a recent (2015) 1948 Bobber from Pittsburg Kansas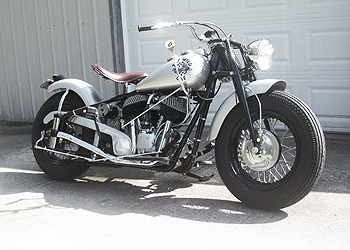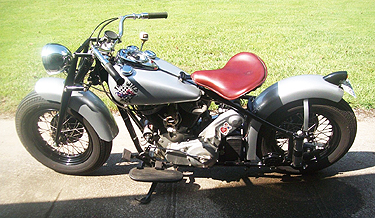 I am not normally a fan of radical choppers, but sometimes I see a really nice one. Here is a superb example of a Chief out of New York City, featured in Iron Horse magazine circa Y2K. The forks are extended a few too many inches for good handling but they do provide more ground clearance and aren't raked out too much. (Some rake was necessary to clear the oil tank which is in front of the engine.) I think this is a wonderful example of chopping without compromising the original styling, unlike the black and red job at Oley above with the "elephant trunk" exhaust. Bill O'Neill's chopping here actually accentuates the Chief's lines, and even the engine which is not normally a high point on a flathead is a centerpiece here. Mounting the tail light and licence plate on top of the low rise sissy bar was a stroke of genius. Click on thumbnail images to enlarge.

Photos courtesy of Iron Horse magazine.



I cannot resist putting in my own '47 Chief chopper, engine # DO2983, admittedly an amateur quality chopped Chief, but in 1969 I had hardly any money and not even a workbench. Come to think of it I still don't have a workbench or much money. Everything was done on a dirt floor with a few hand tools, a vice, and one electric drill. (same today except concrete floor, plus another power tool - an electric bench grinder that vibrates around the floor, and I use a SCUBA tank for compressed air, but I no longer have a vice, amazing how I manage to improvise) Anyway my Indian was stolen, uninsured, in the Fall of 1970 in Stoney Creek (next to Hamilton, Ontario, Canada). Note the chopper fuel tank, 1950's Triumph oil tank and front wheel, custom seat, Z bars, tractor headlamp (useless) and Norton Atlas rear fender. Originally I had two short exhaust header pipes, Sportster style, and I stuffed VW bug resonators into them after the police fined me for noise. A rubber mallet stuffed down the seat post held the seat over the frame. The generator was also Bosche from a VW bug, and I used a go-kart pulley on it. Incidentally I am 20 pounds heavier nowadays, with less hair on my head but more muscles.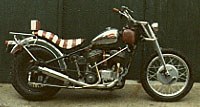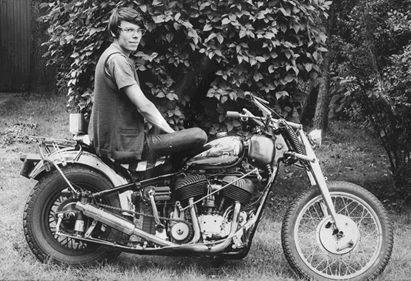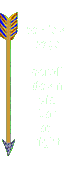 You may wonder about the oil tank and decide it looks strange there. The main obstacle in chopping a Chief (assuming you want to get rid of the fatbob tanks which contain gasoline on the left and gasoline and oil on the right) is where to locate the new oil tank. Bill O'Neill (the New York chop above) put a new tank on the frame downtubes, just above the engine, but this requires raking out the front end to clear it when the suspension compresses and the wheel comes up toward the frame. Once you rake the steering neck you have to extend the forks or the bike will have no ground clearance below the front of the engine. I did not want to alter the steering neck nor extend the forks. I was never satisfied with the Triumph oil tank (which happened to bolt on to the old tank mount holes)
Below we see what happened when I tried to make a sharp left turn at the bottom of the hill in my parents' backyard. At this point I had ridden the Indian hundreds of times so was used to the suicide clutch, but ...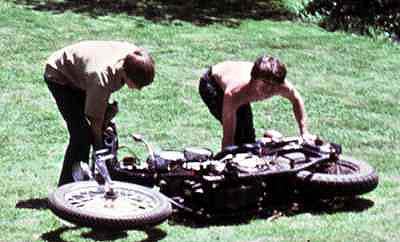 Below is the same bike about seven months earlier in the winter of 1969/70, (with a Honda 175 fuel tank and before I stupidly chopped the Norton Atlas fender) stored outside in the bitter cold, but always starting on the first kick even though the oil was so thick the kicker crank took 3 seconds to descend. Years later I had a Yamaha 850 triple and it wouldn't start with the kicker crank even under ideal conditions, and wouldn't even start with the electric start unless the battery was in perfect condition. I had to buy a new battery annually just to get enough rpm's to start the pig. (It weighed as much as a Chief.)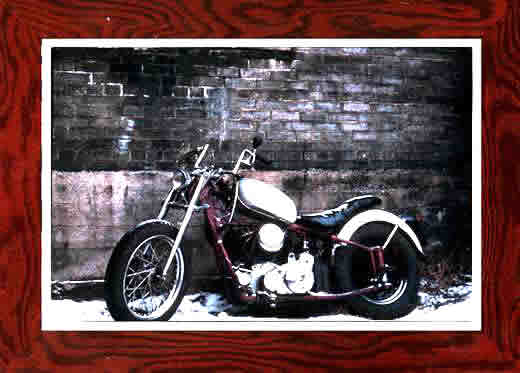 Ending the bobber and chopper section, here is me in 2005 in a Seattle garage deciding to buy the 1966 XLH Sportster (12,300 miles) from the original owner. Since getting it in 2005 I have the faded paint redone same color as original, had the forks rebuilt by Steve's Custom Cycle in Lockport, who also replaced the kick start gears as it was starting to slip, and we put new bearings in the front hub and new brake linings and in 2012 I finally found at Oley a correct, unbent rim to lace the old hub to. I did a tuneup including hours making sure the valve lash and ignition timing was perfect, installed a carb kit, condenser, new clutch cable, did a bit of rewiring, new rear brake light switch, new rear chain etc. Had to get some welding done on the nut where the one of the four windshield bolts goes into the upper left of the fork, do some grinding on the spotlight mounts to make them fit over the windshield bracket. The clutch plates had seized themselves together from sitting so long (Triumph "trick") so I removed the primary cover and clutch cap and unstuck them. The replacement stock 2 into 1 exhaust header from J and P cycle did not fit and they and Tedd's V twin do not sell them anymore so we are still working on that "pissoff". (I had had the part for about one and a half years when I tried to mount it , and J and P only offer a 90 day guarantee so I learned the hard way I should have tried to see if it would fit as soon as I got it.) Sadly the "repop" muffler is only 19" long while the no longer obtainable original was 20 3/4". The equally rare ignition and lights switch seized the same day so unable to get a replacement after phoning or emailing about 18 people who sell old Hog parts in the US and "Mostly Ironheads" in Canada, I managed to get it apart without wrecking it and clean it and de-corrode and lube it but when I tried to get it back together the Bakelite shattered so after some cursing and de-stressing I used "2 ton epoxy"' to get the pieces back into one and sanded down the edges and after a dozen or so tries managed to re-assemble it with all those tiny springs etc., and it works again, but if anyone has Harley PN 71500-59a (not 71500-36, that is for Big Twin) I will buy such a switch for a backup. Originally the 1966 Sportsters came with two six volt batteries wired in series, as did the first 12 v. English bikes of that era. These were long gone and replaced with a new 12 volt battery. Finally found a correct NOS fuel cap for the XLH tank. The original owner had a heavy custom made billet aluminum one on there (free to anyone who wants it). I managed to score a genuine Good Year 3.50 X 18" front tire with no cracks and some tread left, from Ebay. Also a new fuel tap (petcock) from Ebay as J and P and Tedd's etc. no longer sell these unique-to-Sportster items anymore. Getting the rear crash bars (not shown in old photo) and the seat to both fit takes a lot of time and patience and some special tools. In another example of H-D not ensuring their accessories fit with the stock parts, Steve's could not install the optional center stand for me with the rear crash bars and had to do some welding and bracketing. Darren Morse of Steve's Custom Cycle in Lockport NY did such a good job I could not tell what he had modified until he pointed it out to me. Then I found out that it takes at least two people to put the bike on the center stand anyway, and while it keeps the rear wheel off the ground there is no way you can push down to get the front wheel in the air, and thirdly if you try to start the bike when it is on the stand it will fall over - so now I know why no one installed these optional belly stands. Probably the worst center stand ever devised for a motorcycle, although the optional one for the Duo-Glides is almost as useless, reduces the already minimal ground clearance to next to nil and takes 3 people to get it up and probably off. Best center stand is as on my Guzzi California, easier than a 350 single. On my Sporty I cut the bottom extension (which looked like a factory after-thought) off the stand and now it works fine. My next problem was I could not get the bike into gear. That was driving me crazy for a few weeks but finally solved it (cannot remember what I did). Then I could not get the bike to start and run consistently, often "at all", and it was sooting up. Finally hired Jim Dixon from Sanborn NY (expert Harley mechanic, a real pro and a perfectionist and very knowlegable about old Harleys) and he rebuilt my Bendix carb (which I had just rebuilt, obviously not well enough) after chasing down tiny parts all over the USA. Also he found out that the CB points that were in it were not the proper ones, apparently from a car! I somehow stupidly had it timed for retard rather than advance. He managed to put a new check ball and spring in the oil pump to reduce wet sumping without having to pull the engine from the frame. He ended up spending 100 hours (did not charge me for all that time) and it now runs fine. Starting is still a challenge but I learned online how to "tickle" the Tillotson carb from underneath, like one does to an Amal but from underneath, and it helps. So it has taken ten years since the photo below was taken, to get the bike "sorted" as the British say. May consider selling it for the $9,750 I spent on it..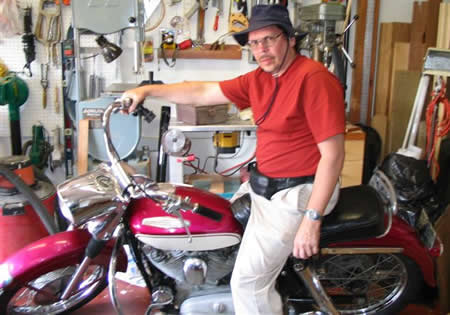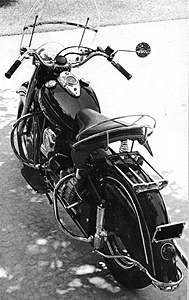 Next, with photos courtesy of Iron Horse magazine, we have a super updated Indian Four. It has an GM Corvair torque converter as well as a disc front brake, model 841 rear suspension, and late Chief forks. It was originally built by Ellsworth Dunderland, and later improved by Wilson Plank at Bob Stark's shop. In April 2013 I heard from a reader that this bike is still running around and Wilson (at American Indian Specialist in Fullerton, California) is still improving it.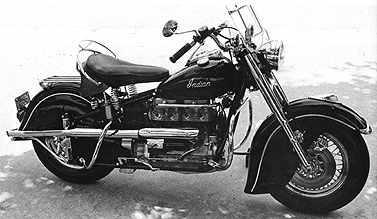 Next are some early 1940's Fours for sale on Ebay in 2013 which are basically stock but have Harley Hydra-Glide or Duo-Glide front ends (but with Indian fenders). Apparently this was not such a rare conversion in the 1960's and '70's. While it may anger Indian purists, it does offer a much plusher ride and cleaner looks. The black bike with the solo seat is a 1941 up for auction May 2013. The white bike appeared on Ebay in July 2013 and was listed as a 1940 model. It seems to have the overstuffed Harley seats so popular in the 1958-78 era. It seems to have had the steering head raked out a bit to better suit the Hog forks.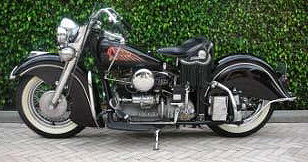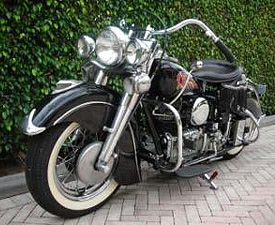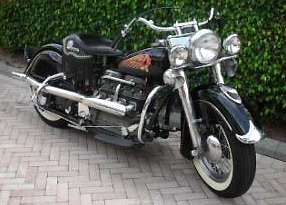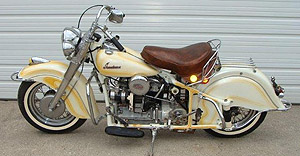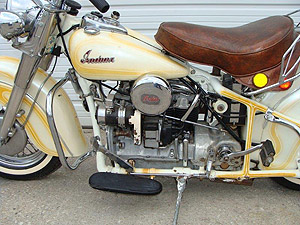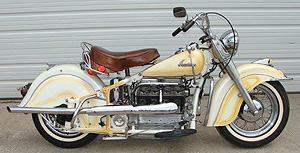 Next we see a 1953 Chief which has been decked or dressed with extra chrome and horns and rails. Sure looks good. This was taken by me at the CVMG annual rally in Barrie in 1976, if not Welland in 1973.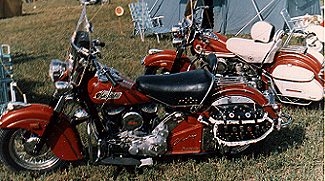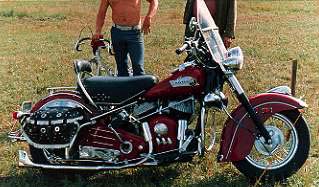 A reader/viewer of this website sent me this photo he took of a V-8 Indian available only in Germany around the early part of this 21st century. Note the large radiator for this liquid cooled engine.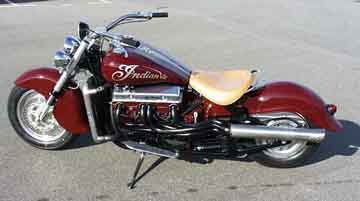 On E-Bay a few years ago was this 6 cylinder Chevrolet powered and automatic transmission "Indian" although the frame is custom and wheels and seat and forks Harley-Davidson, the only Indian parts I can see are the front fender and fender lamp. Next shot shows owner pulling his boat on trailer. This bike has the power and stability to do it. (Sorry about the line thru the shot.)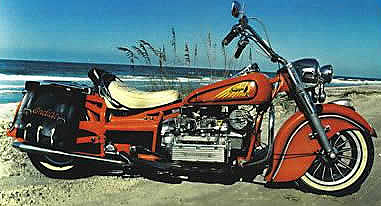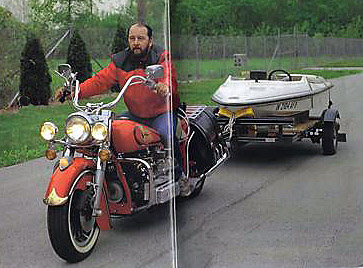 Next is a recent Kawasaki 800 Drifter which when I first saw it from the front fooled me and many others into thinking it was a 1950's Indian with trun signals. (This was before 1999 so there were no new Indians then. Nowadays, why bother trying to make your Kaw 800 or 1500 look like a Chief when there is a real Chief available?) Nowadays the owner is liable for trademark infringement if he still has the Indian logo on the Kaw. The light blue model is a stock Drifter 800. (The 800's look more Chiefy than the 1500's with their swinging arm rear suspension. Unfortunately Kawasaki has discontinued both the 800 and 1500 Drifter so they may eventually become classics themselves)
By comparison, a 1470 cc. (88 CID) Kaw Drifter below. (Perhaps named because they drift rather than steer thru corners? The originally proposed name "Vintage" was much better in my opinion.) The headlight is a copy of a 1950's BSA or Matchless- why they didn't stick with the Nomad headlamp and nacelle which is a copy of 1950's Harley or Indian makes no sense at all. Also the imitation Shovelhead (TM) engine looks like a 1980 H-D stuck into a 1950 Chief. They should've kept the earlier Vulcan engine which was imitation Panhead (TM reg'd). The concept of the rear fender matching the front is great in theory but looks overdone to some. What is neat is that the rear fender is the same distance from the tire as the front, and like the front the fender as well as wheel moves up and down. This concept was copied from the Vincents of the late forties and early fifties.)
Now for something equally interesting, a Swedish Albin ( 1 liter or 61 CID V- twin with huge transfer case for the shaft drive) in bobber form. It seems to have Harley split fuel tanks and a 1960's Sportster front end. Custom solo seat and custom exhaust pipes and a bobbed rear fender and chopper style oil tank and rear wheel. Actually other than the engine and gearbox and possibly the frame there is nothing else Albin on this. This would make a really unique bike to show up with at any meeting of vintage bikes or Harleys. I am curious as to what a stock 1940's Albin looked like. Apparently only two Albins were ever built (military protoypes?) and this is what is left of one. Talk about rare! (Click on the thumbnails to enlarge, full sized image will appear in a new browser window overtop of this one, when finished looking, click off the new browser window to return here).
Indian never made a snow vehicle but several privateers made their own using Indian Scout engines and other parts, and a company named Eliason made "motor toboggans" using Indian engines. Below is a photo taken in 1916, sorry do not know where. The owner uses a steering wheel instead of handlebars so in this sense is way ahead of even today's snowmobiles. However he took the fast and easy way out by using an almost complete Indian motorcycle (less wheels and handlebars) to make most of the machine. The cycle's forks seem to be bolted to the wood plank by a strap. but since steering is instead via ropes attached to the skis, not a problem. Unlike most other homemade snow machines, he has a headlight, which will turn with the skis. Easy to check and refill gasoline too, with the stock tank in its normal location. Looks like the "body" is simply canvas.