Original BIKER and Old Car MUSIC
(+ other country rock , rock-a-billy, reggae, ballads, and one heavy metal song)
by Randy (site webmaster) and the Retreads. Updated 29 Dec. 2015.
Music, lyrics and performances copyright 2008 - 2019 by J. Randal Montgomery.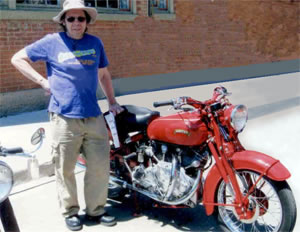 No that's not my 1950-55 red Vincent. I don't have $175,000.

TO DOWNLOAD SONGS FOR 99 CENTS EACH, click HERE
Free samples of songs in MP3 may appear in Playlist above. If not (requires Javascript) go to bottom of this page.
A CD featuring the car, motorcycle and country rock songs from the top of the list above (13 songs) is for sale (title: OLD CARS, MOTORCYCLES, BUDDIES & NEW GALS) at CLICK HERE (price US$12.97 plus shipping from Oregon, USA)
Canadians can order direct from Randy to save time and shipping costs from the US, just email RandyandRetreads@gmail.com with your address and send cheque, money order or pay via Interac for C$15.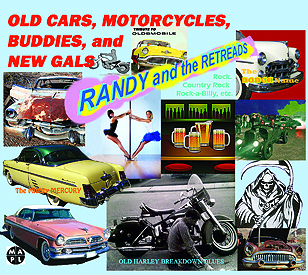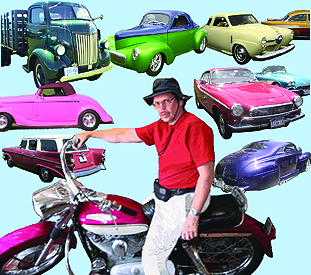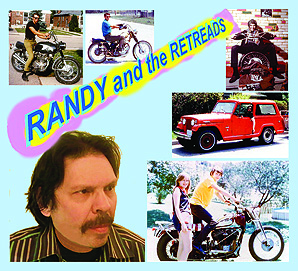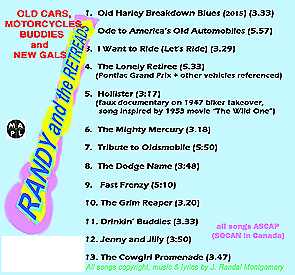 OLD HARLEY BREAKDOWN BLUES (2015 version)

Fast paced hillbilly tune about an old Hog breakdown and how the rider gets help from other riders. If you are a real biker of Harley, Indian, or English brands of the 1950-75 era, and in the mood for a chuckle, this "country swing" style song will bring a smile to your face. The image you see to the left is Randy's old 1951 EL, which he often worked on.

Imaginery theme to The Wild One of 1953, the first outlaw biker film, starring Marlon Brando as "Johnny" and Lee Marvin as "Chino", based on incident in Hollister, California in 1947 where drunken thugs from competing gangs fought each other and took over the town. The sample runs just over a minute; the full version of the song runs about 6.5 minutes. The new shorter version simply called "Hollister" runs 3.3 minutes. Trumpet and saxophone played superbly by Ron Matthews. Motorcycle and police sound effects and narration by Mark Sepic, who also sings the part of the Sheriff whom the bikers lock up in his own jail. Sort of a jazzy documentary, reminds some people a bit of the Pink Panther movie theme from the sixties and others of music in Fellini films. One musician said it reminded him of Chet Baker, a great trumpet player with a sad life.

This is the 3.3 minutes version of Hollister.

Heavy Metal or at least "Light Death Metal" song about Death which is always riding with us. Ends with sound of a coffin closing. Steppenwolf style guitar riffs played by Mark Sepic. Stylistically like Def Leppard, Judas Priest, Black Sabbath, Metallica etc.

The world's new drinking anthem! Fun, catchy, upbeat. Background babble and tinkling glasses recorded at a Latino night club, a musicians' party and a blue collar bar. You will want to sing along after a few brewskies. It may remind you of Merle Haggard or Johhny Horton. For a Youtube video of about 2/3 of the song go to: http://www.youtube.com/watch?v=vHJdhXXii8Y&feature=youtu.be

Tribute to Dodge cars and trucks. The history from the beginning to now. References to the many models of Dodge cars and engines, racing wins and the Dukes of Hazzard. Rockabilly style.

How Much Stress Can a Man Take?

subtitle: "Recession Depression"

(The Pontiac Grand Prix song.) Country music song about a guy who has had many different jobs and finally retires to the country, alone. Much of the song refers to the cars Randy has owned over the years. Catchy country song about a dude who gets laid off, creating financial and marital stress. Sad story but not a downer song - has a couple of lines which makes everyone laugh. Stylistically similar to Tennessee Ernie Ford, Johnny Cash or Waylon Jennings.)

1950's style hard rock with Jerry Lee Lewis piano. Mark Sepic plays the instruments on this one. This song was originally composed by Randy back in 1963 when he was still in High School, but the lyrics have been updated to make it more contemporary. Now its about a pair of exotic pole dancers who drive the audience wild.

Stuck in the City with a Country Heart

Rock-a-billy, country-blues with guitar and harmonica by Mark Sepic about how so many of us feel about having to live in a big city with its crime, noise and road rage, because of job or relatives, but longing to live in the country.

Catchy, danceable country tune about an attractive cowgirl and square dancing. In the Billy Ray Cyrus "Achey Breaky Heart" style. Another lawyer-musician said it reminded him of Merle Haggard. Mark Sepic plays the guitar on this catchy tune.

Reminiscent of CCR/ John Fogerty sounds, also a bit of a cross between an early 1960's folk "protest" song and the AC-DC style, sung in an angry style with political and ecological lyrics about how and why the world became in such a mess, blaming corporations and politicians and military leaders.

Light rock song dedicated to the Oldsmobile car. Lyrics set out the history of the company and the many famous Oldsmobile models over nearly 100 years, and praises them. Over five minutes long. Should be available for sale 3rd week of August or so.

Easy Listenin' old timey Country Pop

STREAM ENTIRE SONG HERE FOR FREE. Easy Listenin' Old Style Country Western song

An idealistic call to change the world and revolt against oppression, inspired by the 2011 "Arab Spring" uprisings in Libya, Egypt, Syria, Yemen, Tunisia, etc. Sung by Mark Sepic.

a.k.a. "Vision for the World". This beautiful, poignant song urges us to either donate money or time and effort to help victims of famines, earthquakes, floods, and other disasters, natural or man-made. Sung by Mark Sepic.
To buy the CD "Canuck" which has eleven (11) of these songs (price only $10 Canadian or about $9 U.S., plus postage) click HERE.
Another CD featuring biker and classic and songs is coming soon.

You can hear free 30 sec. samples, and/or download individual songs for 99 cents from Amazon, i-Tunes, MySpace, or CBBaby.com. Just type in "Randy and the Retreads" in the sites' search boxes. Or (preferably) click on these direct links below:
OLD HARLEY BREAKDOWN BLUES (2015)
HOLLISTER (3.3 min. version)
ODE TO AMERICA's OLD AUTOMOBILES
The MIGHTY MERCURY
The GRIM REAPER
I WANT TO RIDE (Let's Ride)
The LONELY RETIREE
DRINKIN' BUDDIES
HOW MUCH STRESS CAN A MAN TAKE? (Recession Depression)
JENNY AND JILLY
STUCK IN THE CITY (With a Country Heart)
COWGIRL PROMENADE
HOW THE HELL!
LONG WAY TO TEXAS
HAND ME DOWNS
The ARGUMENT
DON'T YOU KNOW
EASY TO LOVE (unplugged, romantic version)
EASY TO LEARN, EASY TO LOVE (R & B version, raunchy Barry White/Eartha Kitt style)
SEIZE THE DAY
TRIBUTE to OLDSMOBILE
The DODGE Name
WORLD VISION (Vision for the World)